Tailor Tales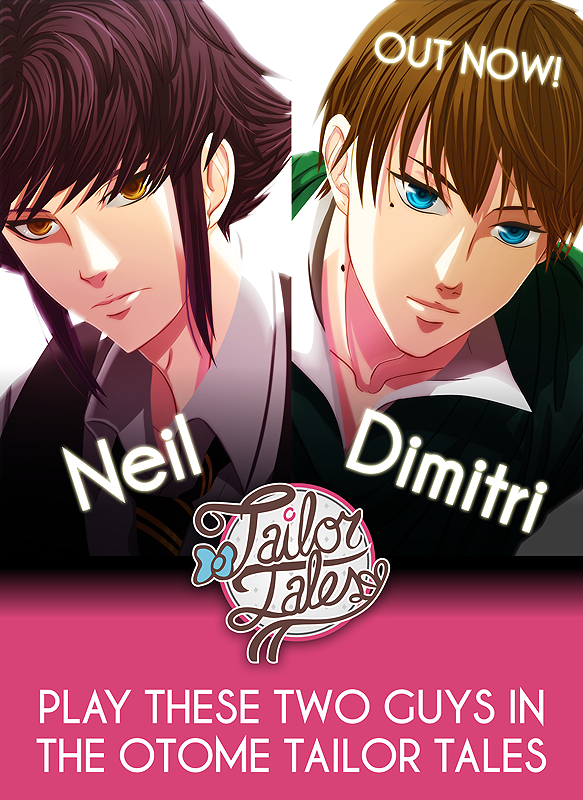 Tailor Tales is officially released and out of early access!
Please download the Itch app and install Tailor Tales through Itch to get continuous updates. Your previous save file from 1.4 will NOT work, you must start a new game.

Neil's and Dimitri's route are 100% completed, with the rest of the planned bachelors coming out in installments. Tailor Tales will get updated with each newly completed route. The next character to be released is Caine, you are free to read his 1st chapter to get a preview for him. Simply go to your Settings > Character > Caine > Story > select his 1st chapter > reread.
For returning players, you get freebies! Go to your Settings > Gift and type in the password "earlybird" to unlock Neil's route and Dimitri's first 7 chapters!

Remember, you must set a character to your main route to be able to continue reading any chapters you haven't unlocked yet. If you want to start on Dimitri's route, beginning with his 7th chapter, go to Settings > Character > Dimitri > Story > select his 7th chapter > start new route.

This is such a huge release and I worked so hard to get it done. Thank you for all your support and kind words, please, enjoy the game.

Remember to check out the Patreon if you wish to support me and get access to more Caine content, as well as the adult portion of the game.

Files
Tailor Tales v 2.0.0 Windows
315 MB
Version 2.0.0
Jan 06, 2019
Tailor Tales v 2.0.0 Mac
459 MB
Version 2.0.0
Jan 06, 2019