Tailor Tales
Tailor Tales beta 1.2 is out
---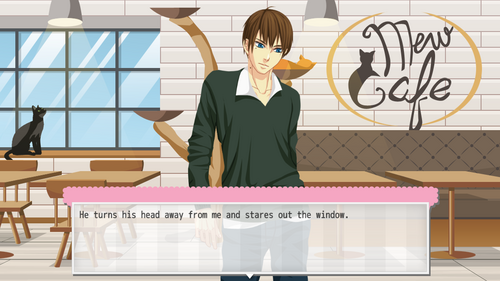 A new update for Tailor Tales!

I'll be leaving to go on holiday soon, so I wanted to leave behind an update before I go radiosilence for a month. I worked real hard to get this update out. There's not much added story-wise (although it's still around 12k of words), it's mostly programming. See below for a full list of changes.


Changelog:
- Sarah, Dimitri and Alex's voices have been added
- Neil's chapters 19 & 20 added
- Dimitri's chapter 3 added
- 1 CG added
- 2 new portraits
- Characters can now blink
- Characters can have threeways
- Several new backgrounds
- Entering your name can now be done with a keyboard
- Fixed a bug with the menu
- Testing special portrait movements (Neil chapter 19, Dimitri chapter 1)

This will most likely be the last update in which you'll be in God Mode, and therefor can bypass restrictions and have access to every chapter, item, clothing etc. Hopefully the next update will finally bring the Client side to the game, so you can start earning money, and play the game like you're supposed to.

To those that have played the previous beta, I recommend playing Dimitri's route from the start again to experience his new voice.


Markus and Evelin do not have expressions yet (time constraints), so please ignore that ;)


Until then, enjoy the new update!

Please delete your old file and replace it with this one. If you want to keep your clothing designs, then copy your save file from the folder www > save > file1, and paste it in the new version. Don't forget to copy & paste the images in www > img > pictures > fashion > Completed if you want to keep your clothes.

Files
Tailor Tales Beta 1.2
368 MB